Careers Leader Information:
Miss K Jamison
Tel: 01642 453462
[email protected]
Careers Education is a vital part of our curriculum.  All of our students receive a full programme of careers education which starts in Year 7 and runs through all year groups.  All students have the opportunity to participate in a wide range of activities which are delivered by both visiting professionals and our own teaching staff.
We aim to raise aspirations, challenge stereotypes and encourage pupils to consider a wide range of careers. This works hand in hand with the school's Mission statement to help pupils realise their own dignity and discover their own unique purpose. Through our mission statement we acknowledge that each person is a unique individual and strive to respect each individual irrespective of circumstance, gender, race or creed. We will encourage everyone to develop their own personality and educate the whole person within a loving and caring Christian environment. To this end we will promote a happy and caring environment within which each individual can develop their potential to the full.
Our Careers Programme
Our Careers Programme has four strands: careers lessons, one-to-one careers support, Higher Education links and Employer links.
Careers lessons and support
Please click here to see our 2020-2021 programme of Careers lessons and careers support here.
Links with Higher Education
At St Peter's we have established strong links with a range of local and national Higher Education Establishments.  Once again these opportunities are not limited to Year 11 pupils.  Strong working links exist between St Peter's and Teesside University, Durham University as well as Oxbridge Universities.  Our pupils have the opportunities to visit Higher Education Establishments and meet students, participate in workshops whilst being exposed to the opportunities open to them.  Visits from a range of Universities into school are also well established and provide our pupils with valuable insight into what it takes to get to university, what life is like there and the opportunities that present themselves to Graduates.
Visits with St Peter's Catholic College
Throughout the school year pupils receive visits from employers and have the opportunity to visit workplaces and Post 16 providers.  Below is a list of some of the opportunities available to all pupils within St Peter's.
Caterpillar Workplace visit

Bring It On – STEM event

Year 7 and 8 – RAF STEM Roadshow

University of York – Science Curriculum Link

Visit to Cambridge University (Tees Collaborative Trust) Year 10 students.

Tees Collaborative Trust Careers Mentoring – 1:1 careers advice for Year 9 students

Nissan Workplace visit

Royal Marines Visiting Team

Y11 Planning My Future Evening – Marketplace of colleges and apprenticeship providers.

Y11 Career Advice 1-1

ESH Building My Skills for Year 10 students.  

Choose My Future – Teesside University 

Hartlepool Power Station Workplace Visit and Curriculum Link

Durham University Y9 Higher Aspirations Campus Visit

College Carousel Assemblies

National Citizen Service Assemblies and Drop ins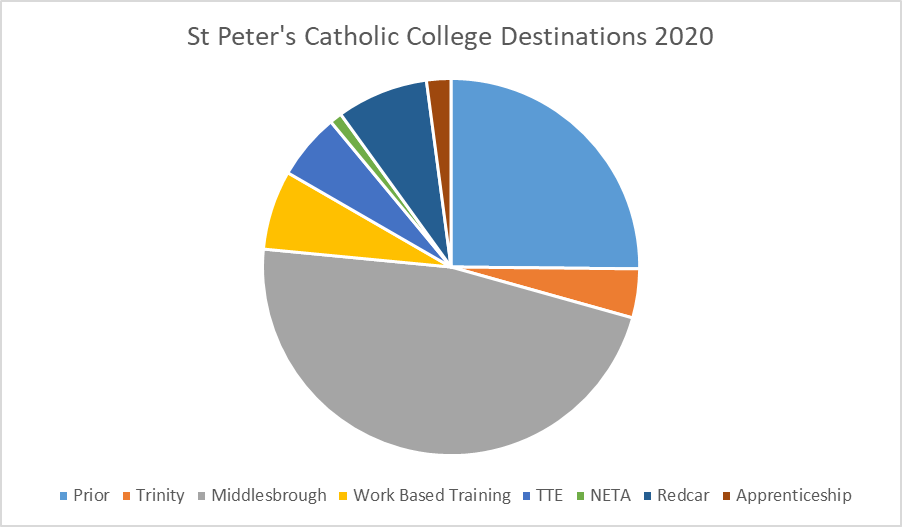 Policies & Documents
Policy Statement for Provider Access
Careers Education and Guidance Policy – See our Policy Section
Current Vacancies for Students
Upcoming Career Events
College, Apprenticeship and Traineeships
Click on a logo below to link directly to the college website.
Useful Links
Get in. Go Far.  Apprenticeships information.
Gov.uk Careers guidance provision for young people in schools
Taking Care of Business – by Redcar & Cleveland Council
The Prince's Trust We help young people aged 13 to 30 get into jobs, education and training.
National Citizen Service National Citizen Service (NCS) is an experience you really don't want to miss. If you're 15 to 17 years-old, this is your chance to embark on exhilarating challenges, make your mark and build skills for work and life. More than 200,000 young people have already said YES to NCS. Don't. Miss. Out.
The National Careers Service – provides information, advice and guidance to help you make decisions on learning, training and work opportunities. The service offers confidential and impartial advice. This is supported by qualified careers advisers.
TTE – Specialist Technical Training Services – TTE specialises in the delivery of technical training and consultancy services to both UK and International clients covering sectors such as Oil and Gas, Manufacturing, Pharmaceuticals, Downstream petrochemical and the contracting industry.
UCAS – We provide application services across a range of subject areas and modes of study for UK higher education providers.
Career Pilot – Your choices at 14, 16 and 18, explore different job sectors and how you can study and work at the same time – even to university level.