Our Alumni
At St Peter's, we are very proud of the successful, diverse and inspiring career pathways our students follow after leaving the academy and pride ourselves on providing the foundations for their education and success.
We Need You!
We would like to encourage all former members of our community to stay in touch with St Peter's. Our network of successful alumni frequently supports our current cohort of students through mentoring, talking to our students about their experiences at the academy and university or even often offering work experience placements. It is our hope that the alumni of our academy can inspire our students and broaden their aspirations for their future.  If you would like to be involved with working with our young learners, want to keep in touch or simply keeping up to date with the latest news from the academy; please register using the "REGISTER" link below: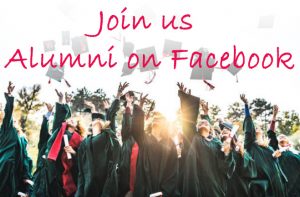 Meet our alumni!
Kate Jamison
With fond memories of St Peter's at the forefront of her mind, when Kate graduated from Teeside University, she applied for a job at St Peters and was successfully placed as a Teacher of P.E. and Director of Progress for Year 9 and 10. Praising St Peter's for helping her achieve the qualifications she needed for university, the hard work of staff and the current opportunities for personal development, she believes that getting a job at her old school is one of her proudest achievements – alongside climbing Ben Nevis!
Kate represented the school in netball, football, athletics and rounders; won the Wilf Manion Sport Award twice and was a prefect and sports captain whilst at St Peter's, and believes her old teacher inspired her passion for sports that has stayed with her since.
"I have extremely happy memories of my time at St Peter's, and that's why I wanted to come back. My teachers were inspiring role models, making lessons fun and enjoyable, and that's exactly what I wanted to give back to students. The academy is a fantastic place for students – every day I advise them to make the most of it, enjoy every moment and take advantage of the opportunities they offer, just like I did!"
Wilf Manion
As a Middlesbrough and England legend; Wilf Manion is recognised worldwide for his talents that saw him play for England in the World Cup Finals in 1950. We are proud to have Wilf as part of our successful alumni group and a role model for our students; as Wilf began his football career at St Peter's FC and progressed through professional teams including Middlesbrough, Tottenham Hotspur, Bournemouth, Oldham and Hull. We have a student award named after him for great commitment, dedication and commitment to sports!
Greg Clark
St Peter's alumni student Greg is a proud Teessider; noting his education at the academy ignited a passion for the local community and his hometowns rich industrial heritage. Having achieved excellent grades and a love for education, he went on to read study Economics at Cambridge University and was awarded his PhD at the London School of Economics. MP Greg Clark has had a successful career since leaving St Peter's; he is currently the Secretary of State for Business, Energy and Industrial Strategy.
Rob Smedley
Born in Normanby, Rob joined St Peter's Academy in 1984 with a passion for motor racing, founded by visits to the race track with his dad. Rob credits St Peter's for providing him with strong foundations and the knowledge to progress to study Maths and Mechanical Engineering at Loughborough University; which stemmed a long and established career in motorsport as a Formula One engineer.
On receiving an honorary degree from Teesside University, he said "My roots began in Teesside and my education was born here in Teesside; it's a great honour from my home town".
Peter Barron
The former editor of The Northern Echo and ex-St. Peter's student Peter Barron visited school last month to hold a journalism workshop. Barron, who attended the school from 1973 to 1978, gave advice on a potential career in journalism and media and documented some of the impactful pieces he presided over at the Northern Echo in his seventeen years as editor.
The former St. Peter's student discussed a visit from none other than President George. W. Bush to the area during his tenure at the White House, something he admits he found bewildering at the time! Peter, who now spends his time as a freelance journalist and writer as well as frequent public speaker, encouraged the attending students to 'aim high' and inspired them to desire to 'change the world'; irrespective of what route they plan on taking. Barron relayed stories from his past, which included one particularly motivating lesson at St. Peters, which involved students writing a newspaper article. The students, who ranged from Year 7 to Year 11, were visibly inspired and moved by Peter's words and it was a delight to welcome him to the school.
Jessica Robinson
 As a student at St Peter's Academy with a passion for drama, Jessica knew a life in the spotlight was ahead of her. Dancing for, and entertaining friends and family as a toddler quickly turned into starring roles in school productions.  Jessica's first big taste of the spotlight came from a brief appearance on ITV's Stars in their Eyes: Kids at the age of 13, followed by her role on Lloyd Webber's 2010 BBC series Over the whilst in her second year of Performing Arts at Stockton Riverside College.
"There was never really a 'spark' moment for me where I suddenly realised I wanted to be on stage. It's just always something I've done. It's ingrained in me, I loved having the opportunity to perform on the stage throughout my time at St Peter's – it really encouraged my passion".